www.TalktoSonic.com – Take the Sonic Survey and Get a Free Drink
www.TalktoSonic.com
Take the Sonic Survey will net you a free Fountain Drink.
The TalktoSonic survey is a customer satisfaction survey, which can be taken by any customer after their visit to a Sonic drive-in restaurant. As a reward for completing the survey, customers are provided with a free drink code, which can be used on their next visit to claim either a free soda or a free iced tea.
Sonic use the information gathered from customers to inform their training efforts and to improve the overall customer experience. The free drink offer provides customers with an incentive to take part.
TalktoSonic Survey Prizes
Free Route 44 Fountain Drink
Free Iced Tea
Note: You can take the survey as many times as you want, and receive a free drink every time, provided you use a different receipt with a diffent survey code each time.
How to Complete the Sonic Survey.
and get your free drink.
After your visit to Sonic, keep hold of your receipt, as you will need the survey code printed on the bottom of it. The survey code is the number shown after ID# on your receipt.
Then go to www.TalktoSonic.com and enter your survey code (ID#) to begin the online survey. Those who would prefer to take the survey in Spanish, rather than English, should click here.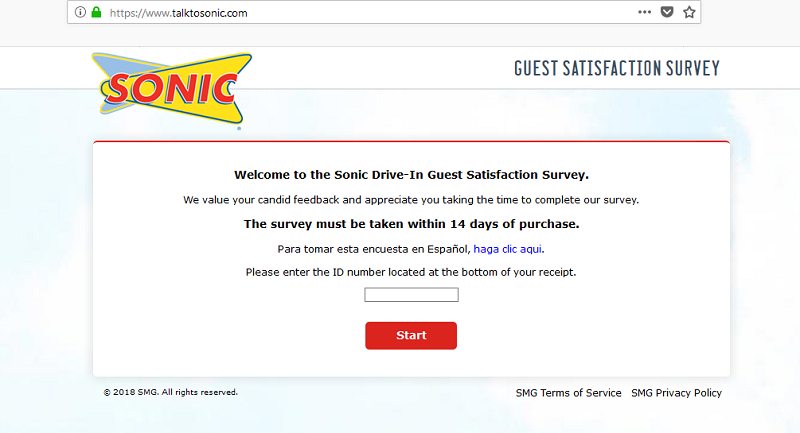 Once you have entered your survey code, click on the 'Start' button and then complete all of the survey questions. These questions will revolve around your visit to Sonic and the customer experience you encountered.
For instance, you might be asked to rate your overall experience, or to rate the friendliness of the staff you spoke to. Many of these questions will be multiple choice, with you rating your satisfaction level on a scale from 'highly satisfied' to 'highly dissatisfied', although some additional thoughts may be requested at times.
Once you have successfully completed the survey, a validation code will be displayed. Write this number on your receipt next to "Validation Code".
Then, the next time you visit Sonic, present the receipt and validation code when making your order, and you will be able to redeem your prize of either a free Route 44 fountain drink, or iced tea.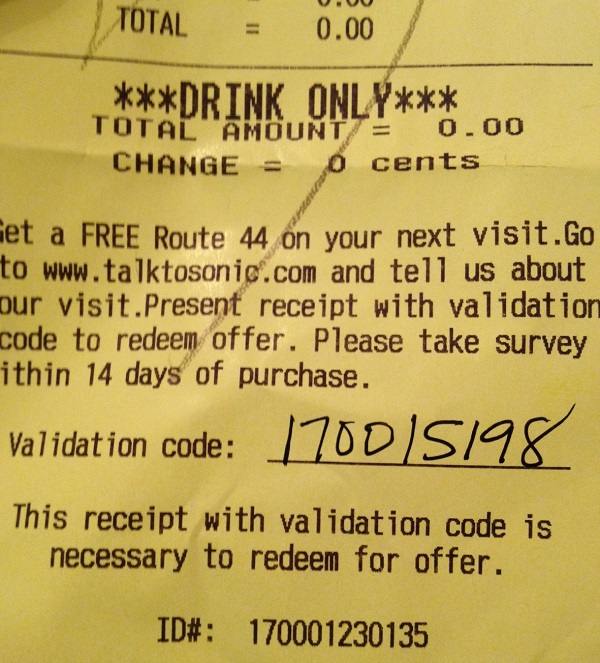 TalktoSonic Terms and Conditions.
Take care when entering your survey code on the Talk to Sonic website, and make sure you write down your validation code accurately afterwards.
Most problems encountered by customers taking the survey and trying to redeem their reward can be explained by examining the terms and conditions of the promotion:
In order to participate in the survey, you must have visited Sonic within the past 14 days.
The validation code received from completing the survey is only valid for a period of 60 days.
Each person is only entitled to one survey and prize per receipt from Sonic, and is only able to redeem one free drink per visit to Sonic.
Survey participants must be residents in the United States and the free drink prize can only be claimed in US stores.
Free Slush With Sonic App.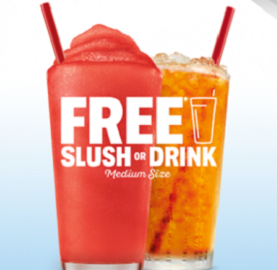 Sonic will also hand you a coupon for a free medium size Slush drink, if you download and install their Sonic Drive-In app.
No purchase is required.
Simply download the Sonic Drive-In app for IOS or Android and set up your account on your mobile phone.
Once you set up your account, you will receive the offer.
To claim, click on 'Redeem' and show the coupon at any participating Sonic Drive-In.
About Sonic Corporation – History and Contacts.

Founded by Troy Smith in 1953, Sonic is an American fast food restaurant, which specialises in drive-in service. The company is based in Oklahoma City and is notable for its use of car hops, many of whom bring customers their food using either roller skates or roller blades, for extra quick service. Sonic's menu consists of typical fast food items, including burgers, fries, hot dogs, soft drinks, milkshakes and ice cream.
Should you need to contact Sonic, you can use the following information:
Phone Number: 1-866-657-6642
Email Form: https://www.sonicdrivein.com/contact
Address: 300 Johnny Bench Dr., Oklahoma City, OK 73104
Other Survey Deals.
If you like this deal, you will also like these survey offers:
Other Survey Deals.
If you like this deal, you will also like these survey offers:
Dollar General's survey will give you a free chance to win 1000$ at Dgcustomerfirst com.
Taco Bell's survey will give a chance to win 500$ for filling out their survey at www TelltheBell com.
Chick-Fil-A gives you a free sandwich for taking the survey at MyCFAVisit com.
McDonalds offers a price of a free Big Mac for taking the www McdVoice com survey.
Nike will hand you a free 10$ coupon for filling out the www MyNikeVisit na com survey.
At Jack In the Box, you will net 2 free tacos at Jacklistens com.
Checkers and Rally's hands you a free sandwich for taking the GuestObsessed survey.
Over at www TellDunkin com, you will net a coupon for a free donut.
Fill out the Whataburger survey, and they will give you a free burger.
At www Tellpopeyes com, Popeyes will hand you free coupons for taking their survey.
The PandaExpress Feedback survey also rewards you with free coupons.
Meanwhile, the Kroger Feedback website, lets you enter a sweepstakes for $5000, for free.
TalktoWendys com, the Wendy's Customer Satisfaction website, offers a free burger.
At www Survey Walmart com, Walmart customers will get a free chance to win 1000$ by taking the survey.
For a free KFC coupon, head over to MyKFCExperience com and complete the survey.
Pizza Hut gives you free coupons for taking the TellPizzaHut survey.
Over at www TellSubway com, you will be given a free coupon for 5 minutes of you time.