Chipotle Menu with Prices
Chipotle Menu with Prices.
Looking for the Chipotle Mexican Grill Menu with prices? Look no further! We have added the Chipotle Menu in its entirety below, so that you can easily browse it from your mobile or home computer.
We have even listed items from the famous Chipotle "Secret" Menu, plus the Kids Menu with prices. Finally, we have added a comment section with news on Chipotle coupons and deals. Enjoy!
Please note, that prices may be different at you local Chipotle restaurant. Prices tend to be 10% to 20% more expensive in California, New York, Hawaii and Alaska.
Chipotle Menu.
Chipotle Food Items
Size
Price

Chipotle Burritos, Bowls, Tacos & Salads

Burrito (Chicken)
$6.50
Burrito (Steak)
$7.50
Burrito (Carnitas)
$6.95
Burrito (Barbacoa)
$7.50
Burrito (Sofritas)
$6.50
Burrito (Vegetarian)
$6.50
Bowl (Chicken)
$6.50
Bowl (Steak)
$7.50
Bowl (Carnitas)
$6.95
Bowl (Barbacoa)
$7.50
Bowl (Sofritas)
$6.50
Bowl (Vegetarian)
$6.50
Taco (Chicken)
1 Pc.
$2.40
Tacos (Chicken)
3 Pc.
$6.50
Taco (Steak)
1 Pc.
$2.75
Tacos (Steak)
3 Pc.
$7.50
Taco (Carnitas)
1 Pc.
$2.55
Tacos (Carnitas)
3 Pc.
$6.95
Taco (Barbacoa)
1 Pc.
$2.75
Tacos (Barbacoa)
3 Pc.
$7.50
Taco (Sofritas)
1 Pc.
$2.40
Tacos (Sofritas)
3 Pc.
$6.50
Taco (Vegetarian)
1 Pc.
$2.40
Tacos (Vegetarian)
3 Pc.
$6.50
Salad (Chicken)
$6.50
Salad (Steak)
$7.50
Salad (Carnitas)
$6.95
Salad (Barbacoa)
$7.50
Salad (Sofritas)
$6.50
Salad (Vegetarian)
$6.50

Chipotle Kids Menu

The Chipotle Kids Combo Includes Fruit or Kids Chips & a Drink

Build Your Own
$4.75
Cheese Quesadilla (No Meat)
$3.75
Cheese Quesadilla (with Meat or Guacamole)
$4.25

Chipotle Extras

Chips & Guacamole
$3.25
Chips & Salsa
$1.95
Guacamole
$1.95
Chips
$1.30

Chipotle Drinks Menu

Patron Margarita
$7.15
Sauza Margarita
$4.70
Beer
Regular
$3.65
Beer
Large
$4.15
Bottled Water
$2.25
Bottled Drink
$2.60
Soda
Regular
$1.80
Soda
Large
$2.10
Kid's Drink
Regular
$1.65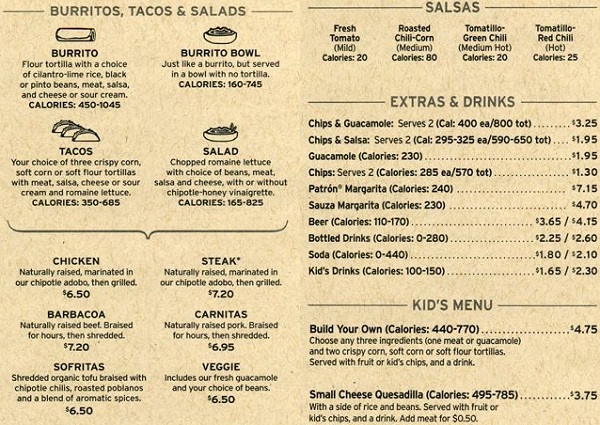 Chipotle Ingredients.
Chipotle claims that there are 65.000 different combinations possible on their menu.
These are the Chipotle ingredients you can choose from:
Avocado
Bay Leaf
Beef
Bell Pepper
Black Beans
Black Pepper
Brown Rice
Canola Oil
Cheddar Cheese
Cheese Cultures
Chicken
Chipotle Chili
Cilantro
Cloves
Corn Masa Flour
Cornstarch
Cultured Cream
Cumin
Distilled Vinegar
Garlic
Gypsum
Honey
Jalapeño
Juniper Berries
Lemon Juice
Lime Juice
Lime (Mineral)
Milk
Oregano
Pinto Beans
Poblano Pepper
Pork
Red Chili
Red Onion
Red Wine Vinegar
Rice Bran Oil
Romaine Lettuce
Salt
Soybeans
Sunflower Oil
Tapioca Starch
Thyme
Tomatillo
Tomato
Tomato Paste
Vegetable Rennet
Water
Wheat Flour
White Rice
White Sweet Corn
Yellow Onion
Chipotle Kids Menu.
Kids Menu prices: $3.75 – $4.75
For kids 12 years and under – drink and small bag of chips included with each meal.
Small Cheese Quesadilla – with a side of rice and beans.
Small Meat & Cheese Quesadilla – with a side of rice and beans
Build Your Own Single Taco – Soft or Crispy shell, and a choice of 3 items (one meat or guacamole) plus a side of rice.
Build Your Own Taco Kit – Choose any 3 ingredients (one meat or guacamole) and 2 soft or crispy shells.
Chipotle Secret Menu.
Chipotle has jumped on the secret menu bandwagon and is now offering a variety of secret menu items, that are only available, if you ask explicitly for them.
Here is a list of the most popular "hidden" Chipotle menu items.
The Quesarito.
This is a large burrito wrapped with a gooey quesadilla outer layer.
The Burritodilla.
This is crunchier and slimmer version of the Quesarito. Shaped like a quesadilla.
Chipotle Nachos.
This is Chipotle burrito  toppings crammed onto cheesy nachos.
Chipotle Quesadilla.
Cost: Kids Cheese – $3.75
Kids Meat – $4.50
Full Size with Meat – $4.75
For the quesadilla you can choose  any toppings that go on a normal burrito.
Single-taco.
Cost: $2.40-2.75
Just ask for a single taco, simply one taco instead of three.
Extra Tips:
Double Wrapped Burrito.
Ask for a asking for a burrito wrapped with two tortillas.
Get Extra Shells.
You can ask for two free taco shells or one free tortilla shell, if you ask nicely.
Mix and Match you toppings.
You can mix and match every topping as you please.
For example, you can mix and match meats for a burrito, and receive half chicken and half steak, if you wish.
Get Cilantro spice.
You can get cilantro spice in your order, if you ask for it.
What is Chipotle?
Chipotle Mexican Grill, Inc. is an chain of restaurants with restaurants in USA, United Kingdom, Canada, Germany, and France. The company specializes in Mexican food like burritos and tacos. Chipotle is the Mexican Spanish name for a smoked and dried jalapeño chili pepper.
Chipotle was started by Steve Ells in 1993 and Chipotle now has more than 1600 locations,  a net income of US$327.4 million and more than 45,000 employees.
All of Chipotle's restaurants are company-owned.
Chipotle's menu has 6 main items: Burritos, fajita burritos, tacos, burrito bowls, quesadillas and salads.  The price  is based on the choice of toppngs like chicken, pork carnitas, barbacoa, steak, or vegetarian. Other toppings are: rice, beans, four types of salsa, sour cream, cheese, or lettuce.
The company serves more organic and naturally raised meat than any other restaurant chain, and Chipotle prices are typìcally a bit higher than other Texmex fast food menus, like the Taco Bell menu and the Chilis Menu.
Chipotle Hours.
FAQ:
What time does chipotle close sundays and saturdays?
What time does chipotle open?
The company has added a handy guide to opening times here: http://chipotle.com/en-us/find/find.aspx
However, the vast majority of Chipotle restaurants are open at these hours:
Monday – 11am-10pm

Tuesday – 11am-10pm
Wednesday – 11am-10pm

Thursday – 11am-10pm

Friday – 11am-10pm

Saturday – 11am-10pm

Sunday – 11am-10pm

A few outlets are closed on sundays and some closes at 8.30 PM on Saturdays.
The company website can be found here.
Chipotle Coupons and Deals.
Please see the comment section below for the latest Chipotle deals and specials. You can also add a comment, deal or tip yourself.
-Chipotle Prices and the full Chipotle Menu.-