Golden Corral Prices – The Golden Corral Buffet Menu with Prices
Golden Corral Prices.
Welcome! We have added the complete Golden Corral Menu, with updated Golden Corral prices and buffet list for you to browse in your own time. Don't waste any time at the restaurant: See the price of the Golden Corral buffet here, so you don't get any surprises.
Golden Corral Menu with Prices.
How much is the Golden Corral Buffet for adults, kids and seniors?
This is the Golden Corral buffet price, updated:
Golden Corral Buffet Menu
Price

Breakfast and Lunch – Golden Corral Buffet for Adults

Breakfast

Saturday & Sunday (Open – 11am)
$12.99*

Lunch – Drinks are Not Included

Monday – Friday (10:45 – 4pm)
$11.49*
Saturday (After 11am)
$11.49*

Dinner – Golden Corral Buffet for Adults

Drinks are Not Included

Monday – Saturday (After 4pm)
$16.99*
Sunday (After 11am)
$16.99*

Children – Golden Corral Buffet for Kids

Breakfast & Lunch Prices – This price Includes a Drink

3 & Under – Limit 2 Free Meals per Adult Purchase
$0.00
Ages 4-8
$8.99*
Ages 9-12
$9.99*

Dinner Prices – This price Includes a Drink

3 & Under – Limit 2 Free Meals per Adult Purchase
$0.00
Ages 4-8
$10.49
Ages 9-12
$11.49

To Go – Golden Corral Buffet Prices

By The Pound (Weight & Pay)

Breakfast
$8.99/lb
Lunch (Monday – Friday)
$6.99/lb
Dinner (Monday – Friday & all day)
$8.99/lb
Dinner (Saturday & Sunday)
$8.99/lb

Seniors (60 & Over) – Golden Corral Buffet Prices

Breakfast

Saturday & Sunday (Open – 11am)
$12.49*

Lunch – Drinks are not Included

Monday – Friday (10:45 – 4pm)
$10.99*
Saturday (After 11am)
$10.99*

Senior Dinner – Golden Corral Buffet Prices

Drinks are Not Included

Monday – Saturday (After 4pm)
$15.99*
Sunday (After 11am)
$15.99*

Senior Earlybird Specials – Golden Corral Early Bird

The early bird Includes a Drink

Monday – Friday (11am – 3pm)
$9.99*
The Golden Corral Buffet – All Items and Ingredients:
I have added a helpful list of all Golden Corral menu items:
Golden Corral Breakfast Menu:
Scrambled eggs
Bacon
Sausage links
Sausage patties
Sausage gravy
Grilled corned beef hash
Creamed chipped beef
Carved ham
Skillet hash browns
Breakfast casserole
Sautéed mushrooms
Sautéed onions and peppers
Cheese sauce
Homestyle pancakes
Blueberry pancakes
French toast
Golden waffles
Cinnamon rolls
Buttermilk biscuits
Texas toast
Maple syrup
Sugar-free syrup
Strawberry topping
Golden Corral Lunch and Dinner Menu:
Carving station: carved bone-in turkey and signature sirloin steak
Bourbon Street chicken
Awesome pot roast
Meatloaf
Fried chicken
Fried fish
Baked fish
Manager's Choice: featured pork entrée
Pot pie or chicken and noodle dumplings
Pizzas
Posole with chicken or pork
King Ranch chicken
Sides Menu:
Mashed potatoes
Baked potatoes
French fries
Macaroni and cheese
Green beans
Broccoli
Carrots
Corn
Salad bar
Soup bar
Golden Corral Desserts Menu:
Carrot cake
Assorted cupcakes
Fruit cobbler
Soft-serve ice cream
Pudding
Jell-O
Cookies
Golden Corral Drinks Menu:
Soft drinks
Coffee
Tea
Milk
Juice
In addition to these regular menu items, Golden Corral also offers seasonal specials and promotions. For example, during the summer months, Golden Corral often have a seafood bar and a barbecue station. And during the Christmas holidays, they also offer special dishes like turkey and ham.
About the Golden Corral Menu.
One of the highlights of dining at Golden Corral is the vast and diverse menu. With something for everyone, it's a haven for those with eclectic tastes and a hearty appetite. Let's break down the various categories and offerings on the Golden Corral menu.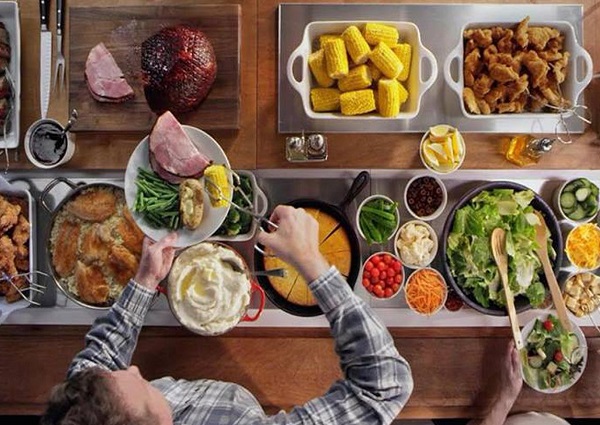 Breakfast:
Golden Corral's breakfast buffet is a morning delight. It features a selection of classics such as scrambled eggs, bacon, sausage, biscuits, and gravy. You'll also find a variety of pastries, cereals, and fresh fruit. Omelette stations are often available, allowing you to customize your omelette with a range of toppings.
Salad Bar:
For those seeking a healthier start or just a light bite, the salad bar is a refreshing choice. It includes a selection of fresh greens, vegetables, proteins like grilled chicken, and a variety of dressings.
Soups:
Warm up with a choice of soups, typically featuring favorites like chicken noodle soup, clam chowder, and more. The availability of soups may vary by location and time of year.
Hot Entrees:
The hot entrees are where Golden Corral truly shines. You'll discover a smorgasbord of options, including comfort food classics like fried chicken, macaroni and cheese, mashed potatoes, and gravy. There are often rotating specialty items like meatloaf, roast turkey, and fried fish.
Carving Stations:
At some locations, you can watch as skilled carvers slice tender cuts of roast beef, turkey, or ham to your liking. These carving stations offer an elevated dining experience and are a particular favorite for meat enthusiasts.
Bakery:
The bakery section features a variety of freshly baked bread, rolls, and delicious desserts like cookies and brownies. You can create your sandwich with the available ingredients, a delightful touch to the buffet experience.
Desserts:
The dessert section is where Golden Corral really sweetens the deal. You'll find a plethora of cakes, pies, soft-serve ice cream with numerous toppings, and seasonal desserts. It's a paradise for those with a sweet tooth.
Beverages:
Your meal at Golden Corral typically includes a selection of beverages, from soft drinks and coffee to juices and even beer and wine at some locations.
It's essential to note that the menu can vary slightly from one location to another, as the restaurant often incorporates regional specialties to cater to the local palate.
Golden Corral's Spaceials and Promotions.
Golden Corral is not just known for its sumptuous buffet but also for its frequent promotions and offers that make dining there an even better value. Here are some of the common promotions you can expect to find at Golden Corral:
Kids' Nights:
Many Golden Corral locations offer Kids' Nights where children eat at a discounted price. These nights often feature fun activities, like face painting or balloon animals, making it a family-friendly outing.
Senior Discounts:
Golden Corral frequently provides discounts for senior citizens, typically during specific hours or days of the week. Seniors can enjoy a satisfying meal at a reduced price.
Military Appreciation Night:
Golden Corral has a long history of supporting the military. They host Military Appreciation Nights on selected dates, where they offer a free meal to veterans and active-duty military personnel.
Special Seasonal Buffets:
Throughout the year, Golden Corral offers special seasonal buffets, such as a Thanksgiving feast or a seafood extravaganza. These events provide unique culinary experiences and are worth trying if you have the opportunity.
Golden Corral Rewards Program:
Golden Corral also has a loyalty program that offers exclusive deals, discounts, and promotions to its members. By signing up, you can access special offers and stay updated on all the latest promotions.
Discounts for Large Groups:
If you're planning a group event, Golden Corral may provide discounts for large parties. This is a great option for celebrations or gatherings with friends and family.
To get the most up-to-date information on promotions and offers, it's a good idea to check Golden Corral's official website or contact your local restaurant directly.
Golden Corral's Hours of Operations.
Golden Corral offers a combination of breakfast, lunch, and dinner service hours, allowing you to enjoy their buffet at different times throughout the day. However, please note that operating hours can vary from one location to another, and some may not offer breakfast or serve it only on weekends. Here's a general guideline for Golden Corral's hours of operation:
Breakfast Hours:
Typically, breakfast is served from 7:30 AM to 11:00 AM on weekdays and extends until 2:00 PM on weekends. However, these hours may vary, so it's best to check with your local Golden Corral for precise times.
Lunch Hours:
Lunch service usually begins around 11:00 AM and ends at 4:00 PM. Some locations may have shorter lunch hours on weekdays, so it's essential to check the specific hours for your chosen restaurant.
Dinner Hours:
Dinner service typically begins at 4:00 PM and extends until closing time, which varies by location. It's common for Golden Corral to close around 9:00 PM on weekdays and Sundays, while Friday and Saturday closing times may be slightly later.
Golden Corral's hours can change, especially on holidays, so it's a good practice to call ahead or check their website for the most accurate and up-to-date information regarding hours of operation for your local restaurant.
About Golden Corral.
When it comes to American dining, there's something about an all-you-can-eat buffet that strikes a chord with many people. It's a place where you can indulge in a variety of dishes, from savory comfort food to sweet desserts, all in one sitting. If you're a fan of this concept, then Golden Corral is a name that probably rings a bell. This article will take you on a journey through the history of Golden Corral, explore its delectable menu offerings, dive into its promotions, and provide a guide to their operating hours. Grab your napkin and let's dig in!
Golden Corral's History and Humble Beginnings.
The story of Golden Corral starts with a dream and a family's dedication. The first Golden Corral restaurant opened in 1973 in Fayetteville, North Carolina. The founders, James Maynard and William F. Carl, were determined to create a unique dining experience that offered exceptional value for the money.
The name "Golden Corral" itself evokes images of a bountiful harvest, and the restaurant aimed to deliver just that. They envisioned a place where families and friends could gather to enjoy a wide variety of dishes and share memorable moments.
Golden Corral's initial concept was built around the family-style steakhouse, offering quality steaks at affordable prices. The restaurant's all-you-can-eat buffet was introduced in 1987, marking a significant shift in their business model. This move was driven by the desire to offer more choices and cater to a broader audience.
The introduction of the buffet set the stage for Golden Corral's success. It provided diners with a diverse array of options, from salads and soups to main courses and desserts. This evolution turned Golden Corral into a beloved dining destination for families, friends, and food enthusiasts across the United States.