Jimmy Johns Menu with Prices
Jimmy Johns Menu Prices.
Updated! Looking for the Jimmy Johns Menu?
Look no further! We have listed the full Jimmy Johns Menu with prices on 1 page, making it easy to browse from home or from your phone. We have also listed the general Jimmy Johns opening hours, at the bottom of the page.
Please note that this page is not affiliated with or owned by the Jimmy Johns company. It is an informational page only.
Jimmy Johns Menu.
Please note, that Jimmy Johns price's can vary from location to location, due to overhead costs, such as rent, being different from restaurant to restaurant. This is the main reason why you cannot find a Jimmy Johns menu with prices on their own website.
We are dedicated to updating this page when new items are added to the menu. You can also help by noting menu changes in the comment section.
Jimmy Johns Menu – Subs
Size
Price

Jimmy Johns 8″ Sub Sandwiches

Pepe®
8 in.
$5.50
Big John®
8 in.
$5.50
Totally Tuna®
8 in.
$5.50
Turkey Tom®
8 in.
$5.50
Vito®
8 in.
$5.50
Vegetarian
8 in.
$5.50
J.J.B.L.T
8 in.
$5.50

Jimmy Johns Plain Slims

Any Sub Sanwich, but without Veggies and Sauce

Ham & Cheese
8 in.
$4.25
Roast Beef
8 in.
$4.25
Tuna Salad
8 in.
$4.25
Turkey Breast
8 in.
$4.25
Salami, Capicola, Cheese
8 in.
$4.25
Double Provolone
8 in.
$4.25

Jimmy Johns Giant Club Sandwiches

Double Meat or Cheese

Gourmet Smoked Ham Club
8 in.
$6.95
Billy Club®
8 in.
$6.95
Italian Night Club®
8 in.
$6.95
Hunter's Club®
8 in.
$6.95
Country Club®
8 in.
$6.95
Beach Club®
8 in.
$6.95
Gourmet Veggie Club®
8 in.
$6.95
Bootlegger Club®
8 in.
$6.95
Club Tuna®
8 in.
$6.95
Club Lulu®
8 in.
$6.95
Ultimate Porker™
8 in.
$6.95

Special Sandwiches

The J.J. Gargantuan®
8 in.
$8.95

Jimmy John's Sides & Drinks

Soft Drink
Regular
$1.49
Soft Drink
Large
$1.99
Dasani® Water
Bottle
$1.49
Chocolate Chunk Cookie
$1.99
Raisin Oatmeal Cookie
$1.99
Real Potato Chips
$1.39
Jumbo Kosher Dill Pickle
$1.39

Jimmy John's Party Platters

You can mix and match any sub sandwiches.

5 Sandwiches Platter
15 Pc.
$28.50
10 Sandwiches Platter
30 Pc.
$56.00

Jimmy John's Party Subs

Party Sub
2 ft.
$40.00
Party Sub
4 ft.
$75.00
Party Sub
6 ft.
$110.00

Jimmy John's Party Sides

Chocolate Chunk Cookie Tray
12 Pc.
$18.00
Raisin Oatmeal Cookie Tray
12 Pc.
$18.00
Six Of Each Cookie Tray
12 Pc.
$18.00
Jumbo Kosher Dill Pickle
Bucket
$5.00
Jimmy Johns Menu – PDF.
If you are looking for PDF version of the menu for Jimmy Johns, then you can find one at this link (but WITHOUT prices): PDF
The Jimmy John's Catering menu in PDF form, withoout prices, can be found here.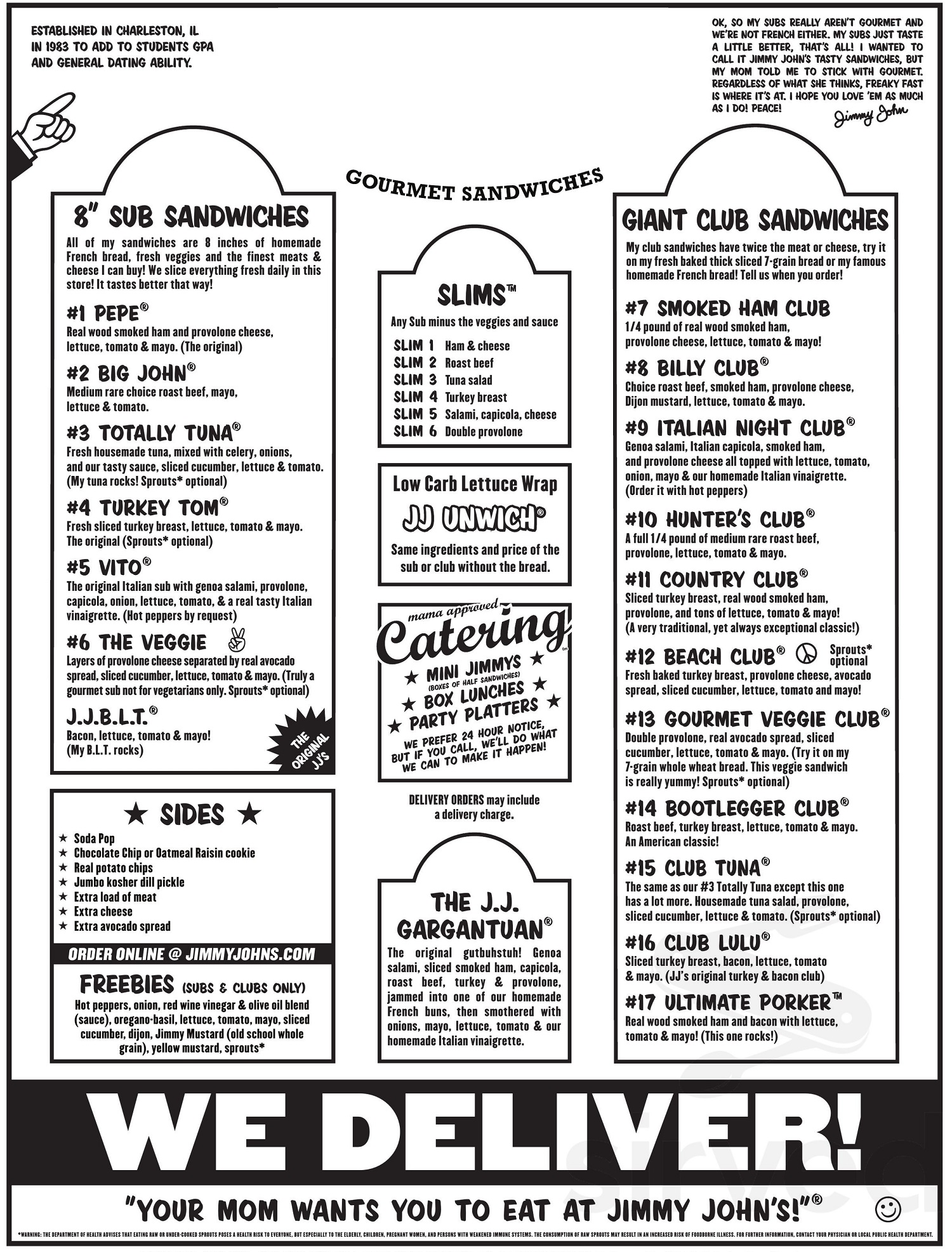 Jimmy Johns Hours.
These are the general opening hours at Jimmy John's. Opening hours and closing hours may vary by location.
Regular Hours

Monday
10:00 am – 10:00 pm
Tuesday
10:00 am – 10:00 pm
Wednesday
10:00 am – 10:00 pm
Thursday
10:00 am – 10:00 pm
Friday
10:00 am – 10:00 pm
Saturday
10:00 am – 10:00 pm
Sunday
10:00 am – 10:00 pm
Jimmy Johns Holiday Hours
New Year's Day: Open
Martin Luther King Day: Open
Valentine's Day: Open
Presidents Day: Open
Mardi Gras Fat Tuesday: Open
St. Patrick's Day: Open
Tax Day: Open
Good Friday: Open
Easter Monday: Open
Cinco de Mayo: Open
Mother's Day: Open
Father's Day: Open
Memorial Day: Open
Independence Day: Open
Labor Day: Open
Columbus Day: Open
Halloween: Open
Veterans Day
Black Friday: Open
Christmas Eve: Open
New Year's Eve: Open
Easter Sunday: Closed
Thanksgiving Day: Closed
Christmas Day: Closed
Jimmy Johns Near Me.
Use the map below to find the nearest Jimmy Johns to your location.

What is Jimmy Johns?
Jimmy John's is a sandwich franchise chain, founded by Jimmy John Liautaud in 1983. The Jimmy Johns franchise now has  1200 locations in 40 states in the USA and 95% of the restaurants are franchise-owned. Jimmy Johns is expanding all over the country at a pace of 200 new units per year. Their main competitors include Subway and Quiznos.
The first Jimmy John's sandwich shop opened in a garage in Charleston, Illinois  in 1983, and the company headquarter is still located in Illinois in the city of Champaign.
For the latest JimmyJohns deals and coupons, including the 1$ sandwich deal, please visit our page: Jimmy Johns Coupons.
Jimmy Johns Home page can be found at www.jimmyjohns.com, where you can also find sandwich nutrition information.
-Jimmy Johns Menu with prices-