Applebees Gift Card Balance and Free 25$ Bonus Card
October 14, 2020
Applebees Gift Card Balance and Free 25$ Bonus Card.
How do I check my Applebees Gift Card Balance?
What is the Applebees $25 Free Bonus Mystery Card?
How do I get the Applebees Free Bonus Card without buying a gift card?
See the answers below.
How do I check my Applebees Gift Card balance online?
Checking the balance of your Applebees gift card i easy. Simply visit www.applebees.com/gift-cards/balance.  Enter your 19 digit card number, enter the capcha code and press "check balance". Easy!
You can also call the Applebee's customer service number at: Phone – 1-800-252-6722 and have your card number ready.
The 5$-$25 Free Applebees Bonus Mystery Card Promotion.
Appleis currently running a superb gift card promotion untill January 3rd, 2016: You can buy a $50 gift card at a Applebee's restaurant or online and get a  free mystery bonus card worth up to $25. Ends Sunday, January 3, 2016. Read more about the details at http://www.applebeesmysteryvalue.com. To determine the value (between $5 and $25) of your Applebees Bonus Card, visit a Applebee's restaurant and present the Bonus Card to a server or visit http://www.applebees.com.
Most people don't know, however, that there is a way to get the bonus card for free without buying a gift card first. This is done by mailing Applebee's directly:
Hand print your name and complete with your return address and email address on a postcard.
Mail to:
Applebee's Mystery Value Bonus Card Request
PO Box 1579
Palatine, IL 60078-1579
Mail-in code requests must be postmarked between 10/26/15 – 1/4/16 and must have been received by Applebee's by 1/11/16. You will receive your Bonus Card code via email within 30 days.
Buying an Applebees Gift Card.
You can also buy Applebee's gift cards in your local Applebee's restaurant, or online on their gift card page.
Alternatively, you can purchase gift crds at third-part sellers like: www.egifter.com/giftcards/applebees-gift-card.
The card should look like this photo (screenshot):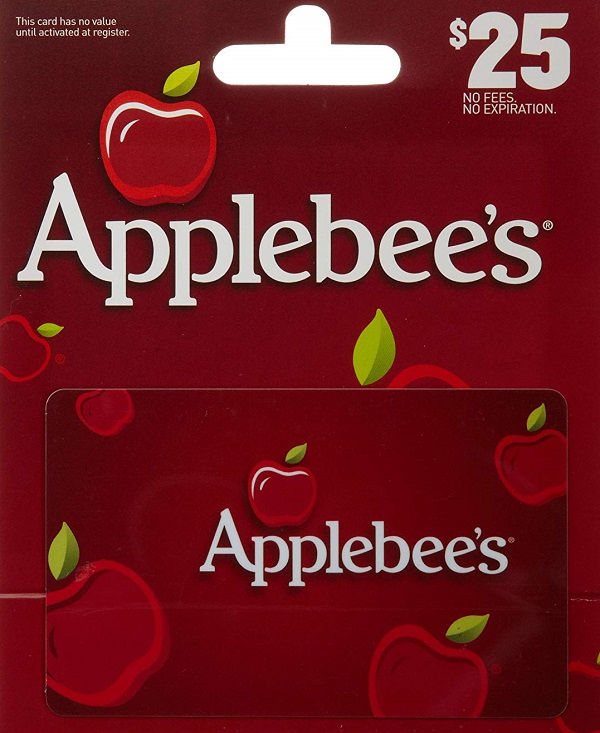 Please rate this restaurant with 1 to 5 stars.
We love reviews and comments!