Valentines Day Restaurant Coupons
Valentines Day Restaurant Coupons and Deals.
Hungry for love or hungry for double chocolate cake with whipped cream. It doesn't matter.For Valentines you can have both with the deals below.
See this years best Valentine deals for hungry couples. You can save 20% or more at some restaurants. We have a list of the nest offers below for your viewing pleasure.
Valentines Days Restaurant Deals.
Qdoba has a "Qdoba for a Kiss" promotion for Valentine's Day.  Receive a buy-one-get-one entrée with just a simple kiss (kiss for your partner, not for an employee!)

Chili's Grill offers a $35 Valentine's for two from February 8 – 14, 2016.  or  "Cupid's Combo for Two."  What you get: two Presidente Margaritas, an appetizer to share, two 6 oz sirloins, and a White Chocolate Molten Cake. Valid only on February 8 – February 14, 2016.
Denny's has one of the best Valentine's offers out there: Get a coupon for 20% off your entire check, valid from Friday, February 12 through Monday, February 15, 2016.
The coupon can be obtained here:
http://dennys.fbmta.com/shared/images/27917287441/27917287441_20160209084493.jpg
Outback Steakhouse is offering a $40 Valentine's Day dinner for two deal from February 8-14, 2016.  It includes: A Bloomin' Onion to share. 2 9-oz Outback Special Sirloins with two sides. 2 signature side salads. And a classic Cheesecake dessert that you can share.
Ruby Tuesday Valentine Deal: Add a Lobster Tail to any entree for $6.99.  Valid only on Valentine's Day.
Steak 'n Shake Free Valentines Milkshake: Get a free Valentine's milkshake on your next visit if you buy a $10 gift card or more.  Valid for a Red Velvet or Chocolate Covered Strawberry milkshake, through February 14, 2016.
TGI Friday's Valentines Day 50% off drinks deal: Get half-price bottles of wine and more.  Valid from Monday, Feb 8 to Sunday, Feb 14, 2016.
Hooter's Valentines deal: Hooter would be an interesting choice for a Valentines date indeed, but if you go, you can get a buy 10, get 10 free deal on chicken wings on Valentine's Day.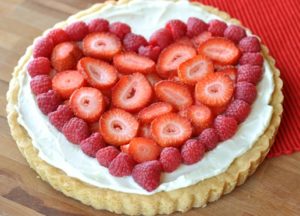 Valentines Day Special Items.
Starbucks has special Molten Chocolate Lattes from Feb 8-14.
Dunkin' Donuts is offering special Valentine's Day with heart-shaped donuts.  To die for.
Dairy Queen has a new Red Velvet Blizzard Cupid Cake at $9.99. Red Velvet Cake Blizzard Treat layered with vanilla soft serve and a center of red velvet cake pieces, plus cream cheese icing.
Enjoy and remember to book ahead. Restaurants fill up quickly for Valentines Day!