Starbucks Hidden Menu – How to order
The Starbucks Hidden Menu – How to order.
How do you order from Starbuck's Secret Menu? Learn about Starbuck's not-so-secret-anymore "hidden" menu.
Please note, that there is no "official" hidden menu at Starbucks.  Though some "secret menu" items are well known, different Starbucks stores will have different ideas about what, for example, a Captain Crunch or a Oreo Frappuccino means.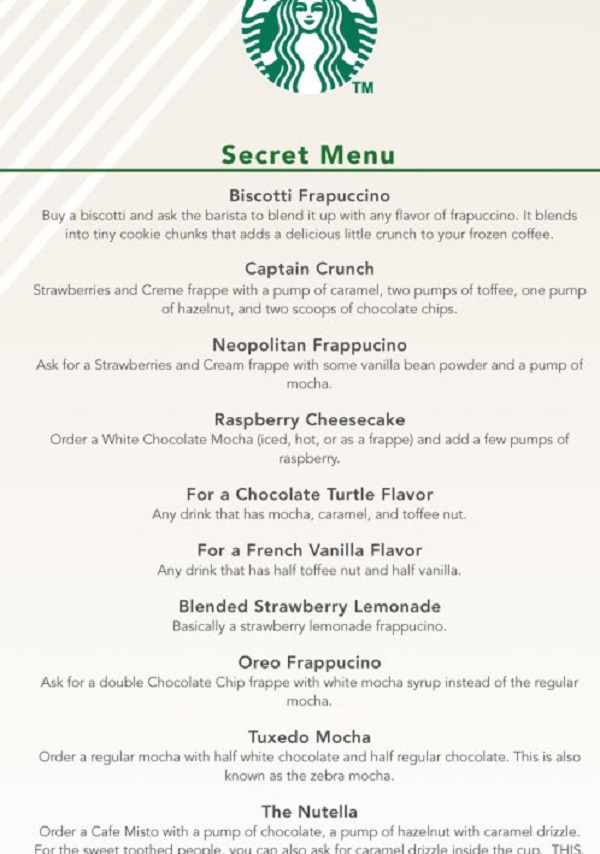 How to order from the Starbucks Hidden Menu.
Ordering is easy, simply askat the counter, if they do your chosen drink. Again, some coffee stores may think that a "Captain Crunch Frappuccino" means just a single added pump or two of toffee nut to a Strawberries and Creme frappuccino. Other stores may think it means to add a combination of toffee nut, chocolate and hazelnut flavours.  Other baristas will never have heard of it, so make sure you have a smartphone handy with the exact recipe, that you want.
Please, never get angry at a Barista for not knowing the exact secret menu drink, that you are requesting. Nothing irritates Starbucks workers more than a customer, who demands something from the secret menu, but who has no idea what goes in it.
The barista will always be willing to make the drink for you, if you're willing to pay the cost of adding all the modifiers to the drink.
Lastly, do not take secret menu names literally. A "Nutella Frappuccino" does not contain any actual nutella, so don't expect or demand that. It simply tastes a bit like nutella and was named so for this reason.
For the TOP 50 most popular Starbucks "Hidden" Menu drinks, please visit our page:
-Starbucks Hidden Menu and Tips for ordering.-