View menus with prices! All restaurant menus are "Live" and has been updated for the year 2017. Don't forget to search the site for restaurants specials. You are also encouraged to add your review of the restaurant in the comment section. Enjoy your meal!
Waffle House Coupons.
Waffle House occasionally offers free waffles or a free hashbrown with a printable coupon. (Monday to Friday only). The coupons below are valid until March 4th, 2015 0r March 8 2016.
We will add new coupons as they become available, in the comment section.
Waffle House Coupon for free waffles.
One Free Classic Waffle. Limit one per customer per visit. Valid Monday – Friday only. Expires on 03/04/2015.

Waffle House coupons for free hashbrown.
Get One Free Regular Hashbrowns. Dine-In Only. Valid at participating locations only. Expires on 03/03/2015.
Free Hashbrown Coupon – 2016.
This coupon will net you a free hashbrown at Waffle House, by presenting it for your server.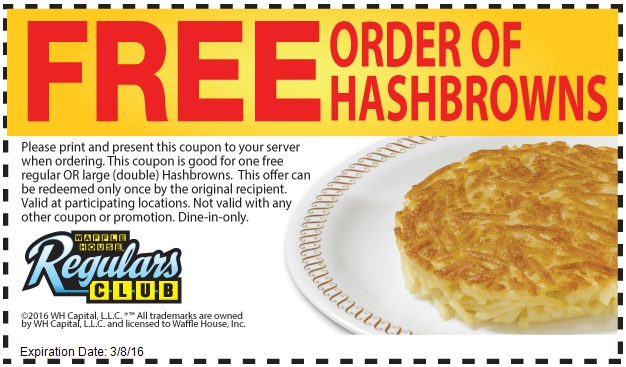 The Full Waffle House Menu. 
For the full Waffle House Menu with prices, please see our page:
You can also add coupons in the comment section yourself. Just include a link a description.
Enjoy!
Please rate this restaurant with 1 to 5 stars.
We love feedback! Please share your experiences with this restaurant below. We will also add special deals and news in the comment section.